Barrel Saddles
We build our Barrel Racing saddles to be stronger, faster and lighter, made to safely endure the grueling daily routines required by trainers and athletes. Our ultra-light racing saddles can weigh as little as 18.5 lbs, featuring a full rawhide-covered lightwood tree especially treated for unmatched durability of construction.
We also offer a wide range of finishing options that make our Barrel Racing saddles as beautiful as they are dependable and long lasting.  We believe we truly offer the fastest, strongest and lightest Barrel Racing saddles in the market.
Pleae contact us for more details and pricing.
Half Breed Barrel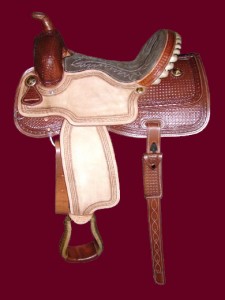 Squared Cornered Barrel